NanoNine Tiffiny Mid Day 260 ml X 3 Double Wall Insulated Stainless Steel Lunch Box, Royal Blue
Washable Thermal Bag

Thermal Bag has a protective layer to prevent temperature changes and is completely washable

Double wall PUF coating

Double walled & PUF coated between walls to prevent heat & nutrition loss.

Food hot & cold

Special PUF coating in every container,lid and thermal bag helps to keep food hot/cold for hours.

100% Leak Proof Lid

Now carry your favorite food without any leakage.

Air Tight

Keep your food fresh for hours
customers are viewing this product

Washable Thermal Bag
Thermal Bag has a protective layer to prevent temperature changes and is completely washable

Double wall PUF coating
Double walled & PUF coated between walls to prevent heat & nutrition loss.

Food hot & cold
Special PUF coating in every container,lid and thermal bag helps to keep food hot/cold for hours.

100% Leak Proof Lid
Now carry your favorite food without any leakage.

Air Tight
Keep your food fresh for hours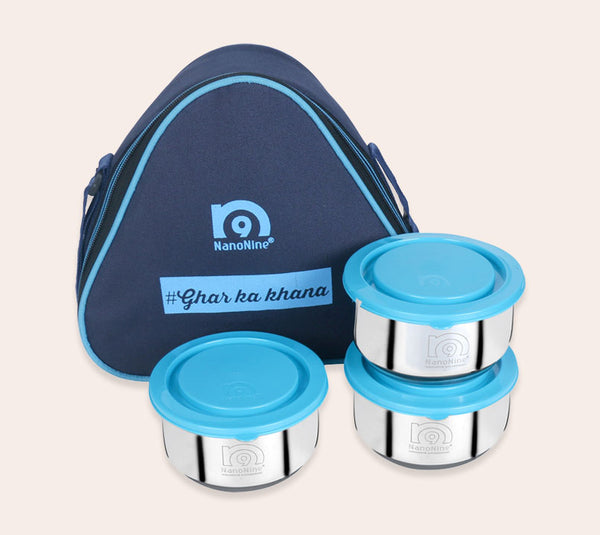 Everyone craves for hot food especially when its home made. NanoNine Mid-Day is here to provide just that. Enjoy the same taste and freshness as you get at home in spite of being away from home. Specially designed double wall strong and sturdy Mid-Day is made of nonmagnetic stainless steel and coated with best quality polyurethane. 5 YEAR GUARANTEE ON LID: 5 year guarantee against manufacturing defects. The guarantee is valid against producing original invoice endorsed by the seller. The guarantee does not cover damages, resulting from accidents, mishandling or tampering with the lid.
Generic Name : Stainless Steel Insulated Tiffin with Bag
Country of Origin : India
Material : Stainless Steel
Colour : Royal Blue
Lid : Plastic
Finish of The Material : Mirror
Quantity : 1U
Warranty : 1 year warranty on manufacturing defects
Mid-Day 3Pack
Product SKU Code : S-168
Contents : 3 N Stainless Steel Container, Capacity 260 ml X 3, 3 N Plastic Lid, 3 N Stainless Steel Plate Capacity 80 ml X 3, 1 N Tiffin Bag.
Product Dimensions (LWH) : 24.5 x 9 x 23 cm
Product Weight : 910 grams
Barcode (EAN 13) :8904174301685
Do not keep in Oven or Microwave
Keep lid away from sharp objects to prevent guaranty loss.
Do not place on Gas, Induction top or Hot plate
Need reasons to use
NanoNine?
Our products result in high Performance,
longevity and customer happiness.
High Quality Steel


Our products are made for longevity with high quality material.

One Year Warranty


We provide one year warranty for
manufacturing defects.
Care for your Lunchbox
Do not keep in oven or microwave.
Keep lid away from sharp objects to prevent guaranty loss.
Do not place on gas.